The J.B. Carr Diamond Trophy was inaugurated by Woodenbridge Golf Club in 1996. This popular event has effectively become the Senior Club Championship of Ireland (Over 60's) with some 200 or so clubs from every corner of Ireland participating. The semi-finals and finals are held each year in Woodenbridge Golf Club, usually over the second weekend of September.
The competition was the brainchild of a distinguished Woodenbridge member and past Captain, the Late Fr. Gerry O'Brien. His vision was a tournament for mature golfers from all corners of Ireland.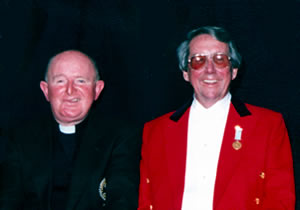 A great friend of Woodenbridge G.C., the legendary Dr. Joe Carr, expressed keen interest in lending his name to the tournament and kindly offered to present a perpetual trophy (a beautiful Silver Salver which Dr. Carr himself won in the Irish Close Championship of 1951). Given that the inaugural event was being staged at relatively short notice, it came as some surprise that 70 teams from around the country entered the competition that year. The event has flourished into one of the largest inter-club competitions on this island.
The format for the tournament is Scotch Foursomes Matchplay with each participating club selecting 10 gentlemen members over the age of 60 (playing off full GUI handicap + courtesy shot to the away team). The teams initially compete at county level and then for their provincial title. The four winning provincial teams then travel to Woodenbridge in September for the All-Ireland finals.
One of the great features of this competition is that it brings together clubs that might not ordinarily meet. The weekend programme begins on the Friday evening with a reception in the clubhouse for the finalists and a draw for the semi-finals which are played on the Saturday.
The Final takes place on the Sunday and the presentation ceremony that evening follows what has always been a great sporting and social occasion.