About J B Carr Diamond Trophy
In 1996, Woodenbridge Golf Club inaugurated the very popular JB Carr Diamond Trophy Tournament which has since become the men's Senior Club Championship of Ireland for over 60's, with almost 200 clubs from across Ireland participating.  
The competition was the brainchild of a distinguished Woodenbridge member and past Captain, the Late Fr. Gerry O'Brien.   His vision was a tournament for mature golfers from all corners of Ireland.   Dr. Joe Carr, expressed keen interest in lending his name to the tournament which was inaugurated in 1996 as the J B Carr Diamond Trophy. The semi-finals & finals are held each year in Woodenbridge Golf Club the first weekend in September.   This year, the final is taking place on Saturday the 31st of August and Sunday the 1st of  September.
Woodenbridge Golf Club is now the home of two Diamond Trophy all Ireland competitions.    With the J B Carr Diamond Trophy having grown to be an all Ireland successful interclub competition, in 2014 the Mary McKenna Diamond Trophy was launched to offer the over 60's Ladies in the four provinces a chance to compete with their peers.    Mary McKenna MBE is the patron of this competition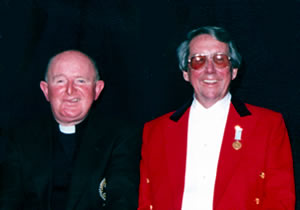 Year

National Champions
Runner Up
3rd Place
4th Place
2022
Shannon GC  - Munster
Royal Curragh GC - Leinster
Dunmurray GC - Ulster
Castlebar GC - Connaught
2019
Ballykisteen - Munster
Castlebar - Connaught
Rossmore - Ulster
Cill Dara - Leinster
2018
The K Club - Leinster
Portumna - Connaught
Templemore - Munster
Ballybofey & Stranorlar- Ulster
2017
Portumna   - Connaught
The K Club - Leinster
Strabane   - Ulster
Fermoy   - Munster
2016
Nenagh   - Munster
Athy   - Leinster
Castle Hume   - Ulster
Enniscrone   - 

Connaught

2015
Ballybofey & Stranorlar  - Ulster
Tuam   - Connacht
Thurles   - Munster
Tullamore   - Leinster
2014
Adare Manor   - South Region
Strabane   - North Region
Castlewarden   - Eastern Region
Ballybofey & Stranorlar - West Region
2013
Enniscrone   - Western Region
Limerick   - South Region
Carlow   - East Region
Castle Hume   - North Region
2012
Ballinrobe    - Connacht
Ennis   - Munster
Castlehume   - Ulster
The Island   - Leinster
2011
Thurles   - Munster
The Heath   - Leinster
Clandeboye   - Ulster
Strandhill   - Connacht

t

2010
Ennis   - Munster
Galway   - Connacht
The Island   - Leinster
Ballybofey & Stranorlar  - Ulster
2009
Galway   - Connacht
Tullamore   - Leinster
Tralee   - Munster
Ballymena   - Ulster
2008
Tralee   - Munster
Tullamore   - Leinster
Co Sligo   - Connacht
Strabane   - Leinster
2007
Tuam   - Connacht
Tralee   - Munster
Stackstown   - Leinster
Strabane   - Leinster
2006
Newlands   - Leinster
Carrick on Suir - Munster
Athenry   - Connacht
Bundoran   - Ulster
2005
Stackstown   - Leinster
Galway   - Connacht
Nenagh   - Munster
Cavan   - Ulster
2004
Charleville   - Munster
Tuam   - Connacht
Cavan   - Ulster
Dundalk   - Leinster
2003
Charleville   - Munster
Galway   - Connacht
Portsalon   - Ulster
Co. Louth   - Leinster
2002
Charleville   - Munster
Clontarf   - Leinster
Co Sligo   - Connacht
Castlerock   - Ulster
2001
Galway   - Connacht
Rosslare   - Leinster
Charleville   - Munster
Rossmore   - Ulster
2000
The Heath   - Leinster
Tralee   - Munster
Strandhill   - Connacht
Cliftonville   - Ulster
1999
Galway   - Connacht
Charleville   - Munster
Carlow   - Leinster
Bangor   - Ulster
1998
Fermoy   - Munster
Galway   - Connacht
Mullingar   - Leinster
Balmoral   - Ulster
1997
Galway   - Connacht
Waterford   - Munster
Royal Tara   - Leinster
Moyola Park   - Ulster
1996
Courtown   - Leinster
Waterford   - Munster
Rossmore   - Ulster
Oughterard   - Connacht