2022 MMK FINAL PHOTOS & INFORMATION
By
MMKAdmin
Tuesday, 20th September 2022
Filed under:
CLICK HERE FOR  PREVIOUS WINNERS
Sunday 11th September 2022
CLICK HERE FOR FINAL TEAM SHEET
CLICK HERE FOR 3/4 PLAYOFF TEAM SHEET
Portumna Ladies Win All Ireland Mary McKenna Diamond Trophy Tournament
We welcome the return of the Mary McKenna Diamond Trophy finals which were held in Woodenbridge Golf Club Co. Wicklow on the 10th & 11th of September after a two year Covid break. 
The four provinces were represented by Portumna Golf Club Connaught, Donabate Golf Club Leinster, Cahir Park Golf Club Munster and Banbridge Golf Club Ulster. 
The ladies of Portumna Golf Club (Connaught) were victorious against Donabate Golf Club (Leinster). The first Connaught team to win in the competition's history. In the final the golf was very competitive in all five matches which could have gone either way.   In addition, the third-place playoff resulted in a win for Cahir Park Golf Club (Munster)  over Banbridge Golf Club (Ulster) . A very high standard of golf was on display over the two days from all four teams. All players have to be commended for the way in which they managed the difficult conditions on Sunday.  Mary McKenna attended the matches all weekend and all the ladies were thrilled and honoured to be in her company. The finale of the event was a gala dinner where Woodenbridge Golf Club hosted all four teams, attended by Mary McKenna MBE and the sponsors Nurse On Call, Woodenbridge Hotel & Lodge, Glenhaven & Cassidy Wines. The four teams celebrated having a lovely evening and many new friendships were forged over the weekend.    Woodenbridge Golf Club would like to thank all the participants & sponsors for making the sixth Mary McKenna Diamond Trophy event such a success. 
The Mary McKenna Diamond Trophy tournament, which is in its sixth year, is an all-Ireland senior club championship for woman over 60 years of age, similar to the successful JB Carr Diamond Trophy for men over 60 .  The tournament named after Mary McKenna MBE, Ireland's greatest female golfer, was run over six months to Provincial level, with teams from the four provinces playing in the semi-finals and finals hosted by Woodenbridge Golf Club on the second week in September. 
Ladies golf clubs from across Ireland were invited to participate in the Mary McKenna Diamond Trophy Tournament for 2022 and 83 teams played out their provinces between April and September  The format for the tournament is Scotch Foursomes Matchplay with each participating club selecting ten lady members over the age of 60.    Prizes and sponsorship for the event have been generously provided by Nurse On Call, Woodenbridge Hotel & Lodge, Glenhaven and Cassidy Wines.
Lady Captain of Woodenbridge Golf Club Marie Hegarty, commented "The members of Woodenbridge Golf Club are very proud to host this prestigious event in the golfing calendar.  One of the unique features of this competition is that it brings together golf clubs and ladies from all four corners of the country that might not ordinarily meet in a fun and very sociable golf tournament." 
"We were absolutely delighted with the response from all 32 counties this year and would like to thank Mary McKenna MBE who has kindly given her name to this prestigious tournament,  which is growing steadily and is offering highly competitive golf for Ladies over 60 throughout the country". added the Lady Captain.
Saturday 10th September 2022
First out Saturday morning at 10 were Donabate Golf Club vs Cahir Park Golf Club with Donabate first to the final with 3 wins and at 11 were Banbridge Golf Club vs Portumna and Portumna came through to the final with  3 wins also.  Click Here for the Result of 1st Match and Click Here for the Result of 2nd Match.
Friday 9th September 2022
The draw took place at the opening ceremony officiated over by the President of Woodenbridge Golf Club Lesley Williams.
Mary McKenna MBE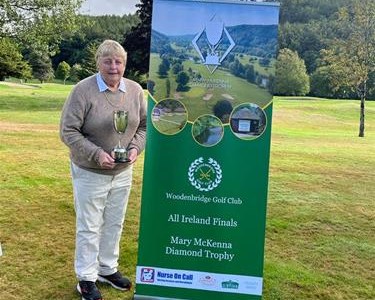 Great excitement when the four teams gathered together for team photos and the opening ceremony of the 2022 Mary McKenna Diamond Trophy.  Mary McKenna MBE was in attendance and was delighted to meet everyone, especially her home club Donabate representing Leinster this year.  (No Bias)   
| | |
| --- | --- |
| Connaught Portumna Golf Club | Leinster Donabate Golf Club   |
| | |
| Munster Cahir Park Golf Club | The Ulster Team Banbridge Golf Club |
| | |
CLICK HERE FOR FULL 2022 FINAL RESULTS
The scene is now set for the final weekend of the 2022 Mary McKenna Diamond Tropjy Tournament.
Our four finalists are
Everyone is looking forward to a fabulous weekend on 9th September, of great golf and new friendships.  Well done ladies.
Please click on draws below to download to date results per region